Today's Beyond is about Fumika Kumamoto who is a second grade student and belongs to the soft tennis club. As a student athlete, she devotes herself to not only club activities and but also schoolwork. The interviewer asked her about her goal of club activities and her dream.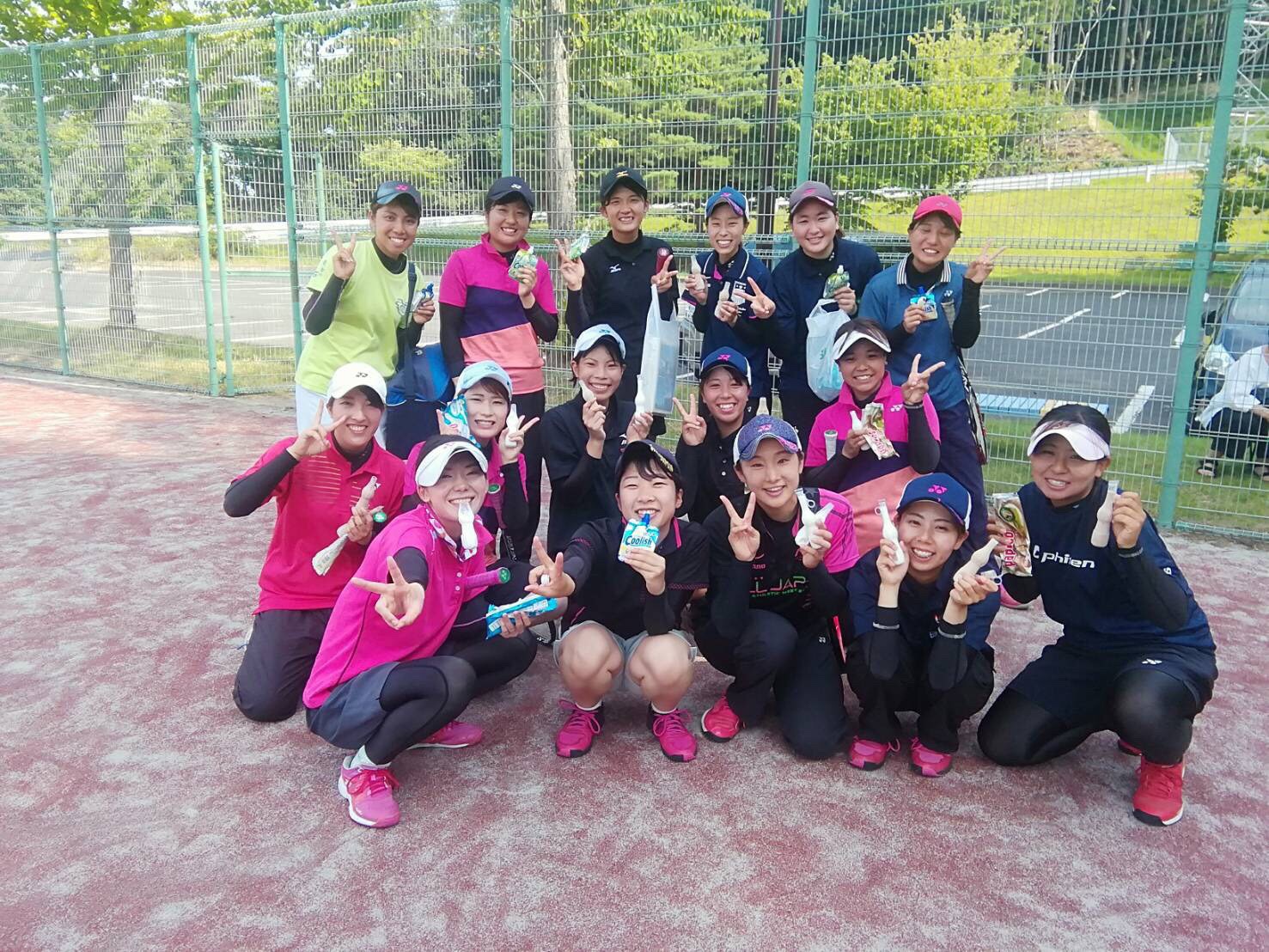 I want to play soft tennis on a higher stage
Sisters were playing soft tennis, and Mr. Kumamoto, who was familiar with soft tennis from an early age, started playing in the third grade of elementary school.
"My sister was playing soft tennis, and I used to follow the tournament from a young age. From that time on, the director and parents recommended me to play soft tennis, but I wasn't very positive for it, but when I was in the third grade of elementary school, my new friends played tennis well, so I started it. I won the Kyushu tournament, and at that time I felt like going higher than the Kyushu tournament at junior high school. "
Then, in the final game of junior high school, she won the team competition in junior high school, and she chose to leave his hometown to reach a higher level in high school.
"I wanted to be the best in Japan in high school, so I chose the strongest high school in Kyushu as my destination. I used to just like soft tennis until junior high school, but in high school I couldn't enjoy the competition purely. I felt like I was carrying the name of the school because it was a strong school. When I was in first grade of high school, when I was selected as a regular member. I felt like I had to do my best. But from second grade of high school, I felt the pressure of "we have to win, we don't lose". It was mentally painful. "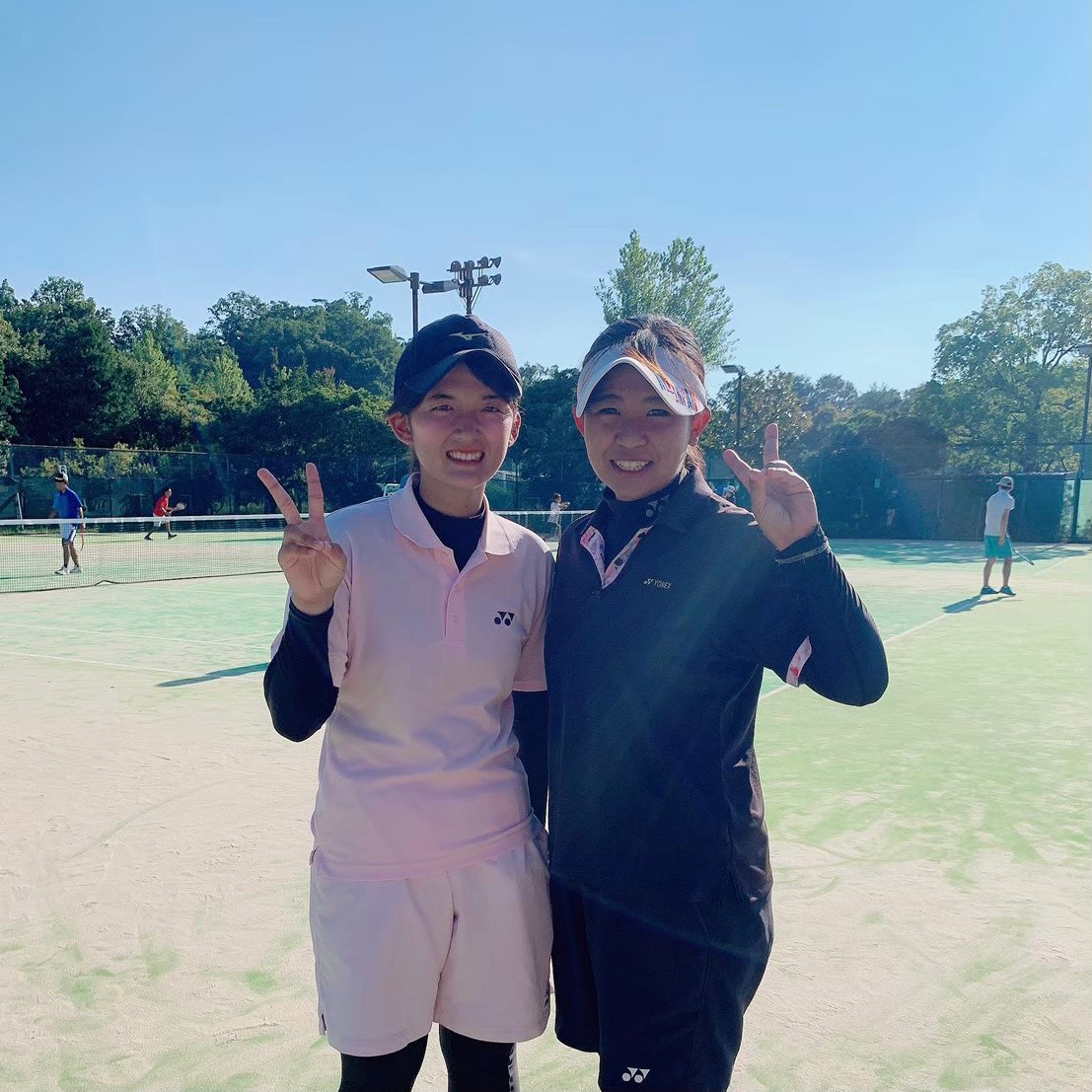 What you can teach from your past sports experience
After graduating from high school, she began to want to change her environment and take on challenges. She chose Ritsumeikan University not only for competition but also for her career after graduation.
She said, "I wanted to leave Kyushu and try a new place. I chose Ritsumeikan University for three other reasons. The first reason is to be a PE teacher. I am a high school student. From that time on, I wanted to become a PE teacher in the future. It looked really cool to see the teacher facing the students in junior high school. And, through my sports experience so far, I taught PE and taught the humanity part. I wanted to teach. To make that dream come true, I'm working hard to get a teacher's license from elementary school to high school. The second reason is that I was only playing tennis in high school, so I went to study. The third reason is that we can enjoy the competition at a high level. We chose Ritsumeikan University because of these three environments. "
She continues her goal of focusing on her studies at the beginning of her studies, and has had the experience of being selected as an excellent student.
She said, "I have a personality that I hate to lose, and I don't want to compromise not only in club activities but also in studying. I am enrolled by sports recommendation, so I have to work harder than those who are enrolled in studying. Besides, since I was a club activity enthusiast in high school, I have a desire to study hard at university, so I have never thought that it would be difficult to balance club activities and everyday life. I will do my best in both club activities and academics without failing. "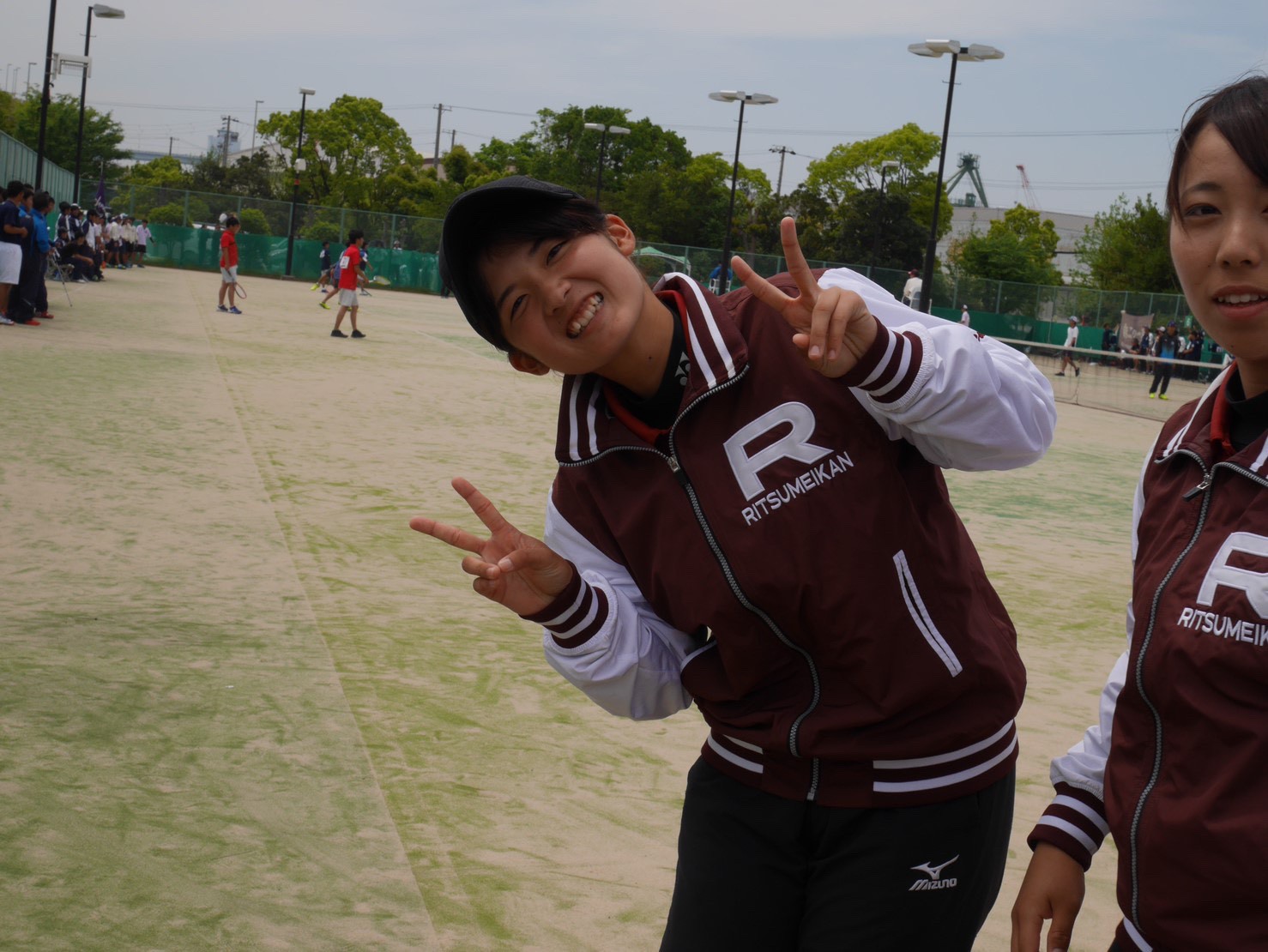 If I don't start playing tennis, it would not have met.
She met tennis when she was an elementary school student, and we asked her the moment that he felt happy because of continuing to play tennis until now and good to continue playing tennis.
"I strongly feel [I'm good to belong to this team.] when I could win the game, especially team competition. Not only winning a game, but also, I could meet a lot of people. I think that there are a lot of people who would not have met, if I don't start playing tennis. So that is also a good point. In addition, I can be super positive better than anyone because I play tennis. I am often said to people that you are a tough person, I think that is thanks to play tennis."
She will be 3rd a grade student in spring. We asked her the goal while campus life.
"Now, we belong to division1, but 5th of 6 teams. So, the goal is remaining same league. However, not only remaining same league, but also I want to make the team that can aim to be the champion."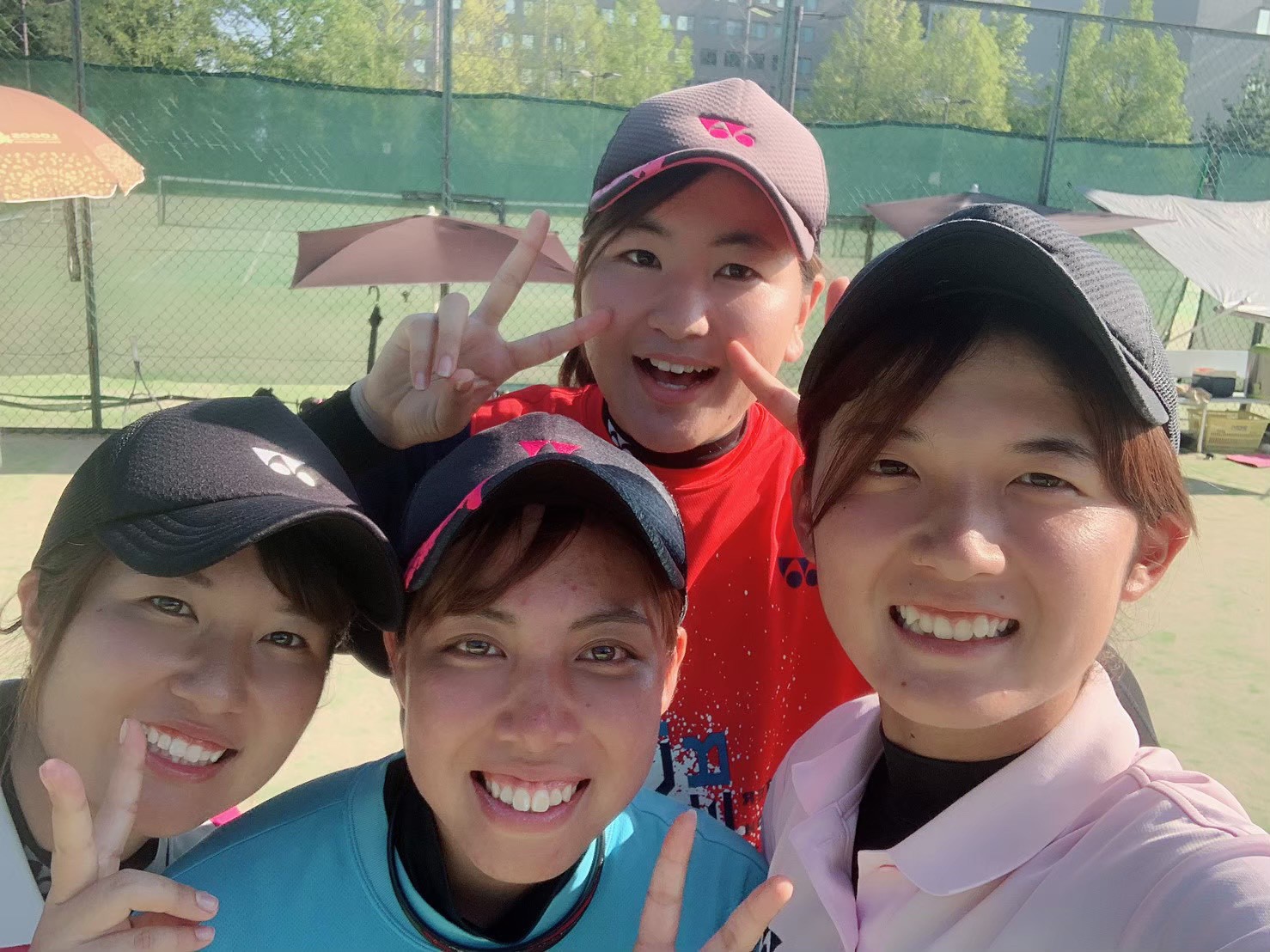 It's just two more years that we can devote ourselves to something
Finally, the interviewer asked her what the soft tennis club is for her.
"It's important and youth for me. Recently, I talked with my teammates that it's just two more years that we gather and devote ourselves to something. Last year, there were no competition because of corona virus and what was commonplace is no longer commonplace. Therefore, I want to do my best for the rest of university life."
She will graduate in two years. She is advancing to her own dream and goal, so we're looking forward to her activity!
Interviewer: Fumika Saijo (3rd Sports health and science)
Translated by Ryo Nakata (3rd International Relations)
Toshiya Iwami (3rd Policy Science)
Saho Hashimoto (3rd Literature)
Chihiro Saegusa (3rd Literature)
If you want to watch the game of the soft tennis club, you can check the date of the game from below URL.
↓↓↓