Today's article is Mr. Ryo Nakazawa, a 3rd year student in the men's basketball club.
We asked him about his thoughts on basketball and thoughts on the members, as he has been playing basketball for more than half of his college life.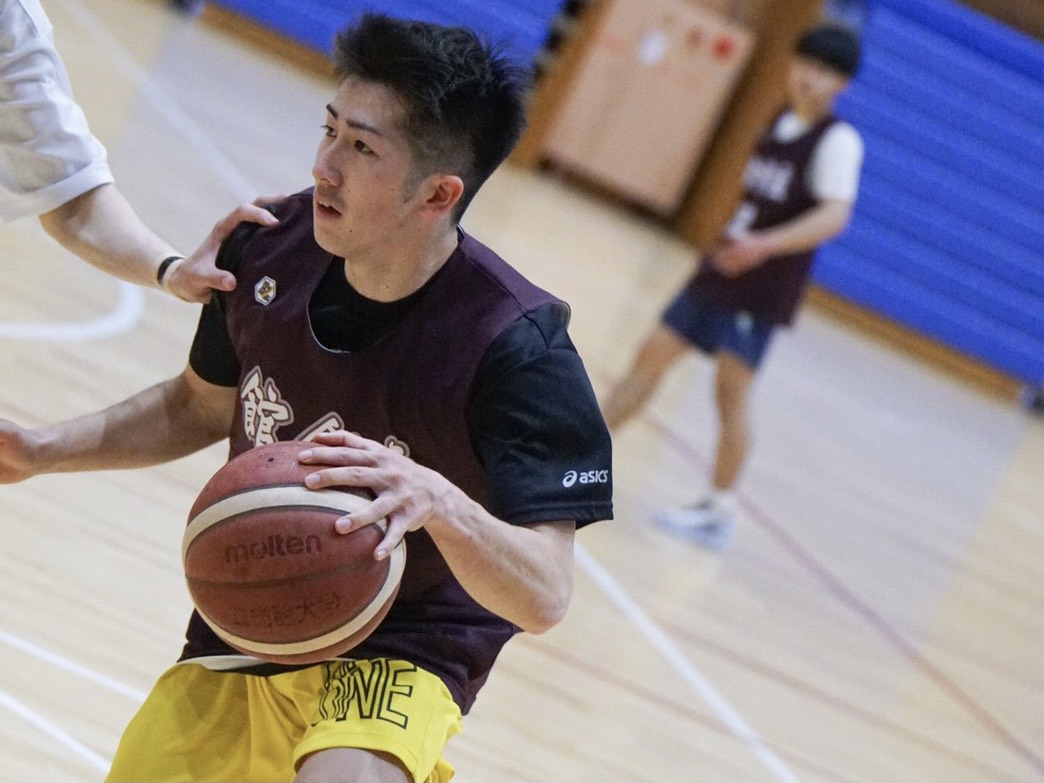 I like to think about "how can I win and what kind of practice should I do to win?"
He has been playing basketball since he was a child. We asked him why he started playing and why he continued club activities in college.
He said, "I started playing basketball because my brother was playing basketball. I went to public junior high school, but high school went to Ritsumeikan Moriyama High School on the recommendation of basketball. Because I wanted to do my best in both club activities and study.
"I wanted to continue in club activities if I continued to play basketball in college. I think about ways to win, not just play basketball. That's why I wanted to continue playing basketball in club activities that always require victory. "
A sense of fulfillment from self-growth
Mr. Nakazawa told us that it is fun to keep thinking to win the game. He has always calmly analyzed the situation and overcame difficult situations.
"When I feel happy, I play well and accomplishment in club activities. When I make a mistake or cannot play well in practice or a match, I analyze my play with a video and do that part by self-discipline. I feel self-growth when I hone my skills and feel that I can do it. I am glad that I was doing club activities when I could get a sense of fulfillment from such experiences."
"I'm practicing every day for the match, but when I was in the first year, I couldn't get into the official match for a second, and I felt regret. However, I tried to think, "Why is this person chosen, what is the difference with me?" And, thinking about what I am lacking, that part I was able to overcome it by trying to supplement it with my usual practice."
I play leading the team
We asked him that how he wanted to contribute to his team as a junior that supports seniors and how he acted toward his juniors.
"I'm usually the life of the party, so I always want to cheer up to excite the team and make the atmosphere brighten up."
"And recently the games are often canceled because of corona virus. However, if the game starts, I want to impress my juniors and play well leading the team. I also want to be a companionable senior. When I was an underclass man, I felt it was hard to ask my seniors even when I wanted the advice. But it had better to ask the seniors to study because there are many seniors. I would like to communicate actively and build the comfortable relationship."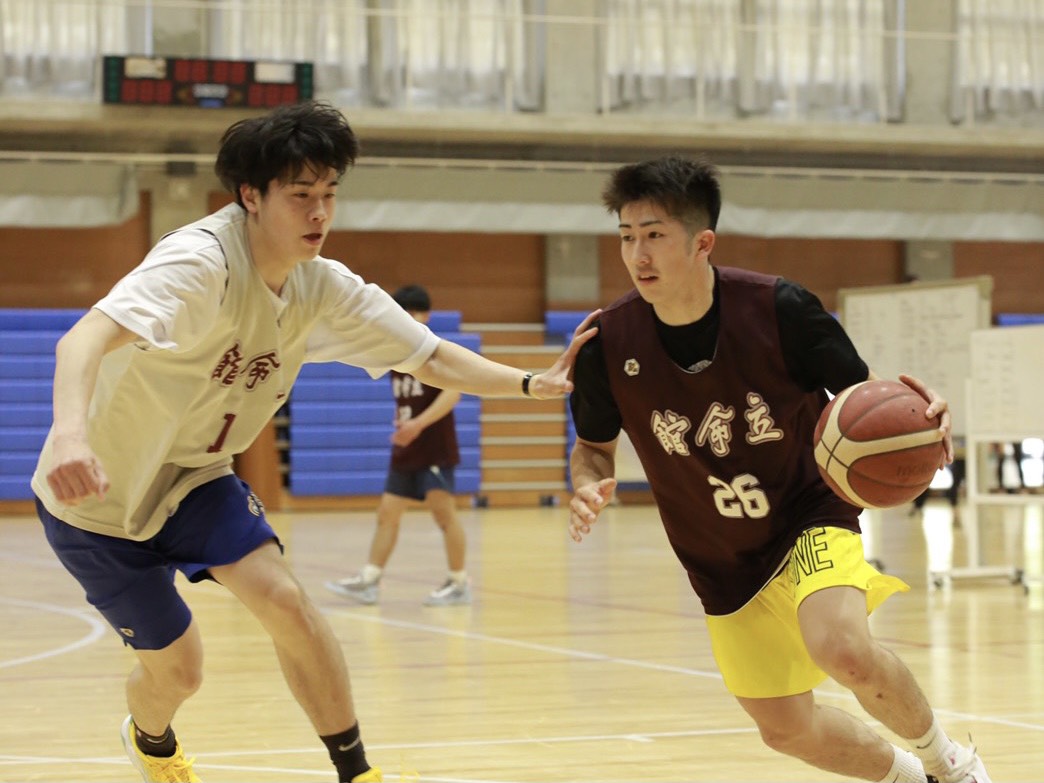 The Goal is Experiencing the Stage of Inter-College National Tournament
The 3rd grade is the turning point in college life. We asked him the goal of the rest basketball life and how he makes use of basketball experience to the future.
"The goal is entering inter-college national tournament. Most other teammates have experience national tournament because they came from powerhouse school. But I don't have experience like that. If we could be ranked in the top 5 in Kansai league, we can enter national tournament. So, I want to get results in the league and enter the tournament."
"I will talk about how make use of this experience in the future. I want to make use of the power that being able to talk to anybody with the way I am irrespective of age. I was suffering from differences in environment at beginning of college life because there were no age hierarchy in Junior high and high school. It was tough to fill the gap. I hadn't known how communicate with seniors. But now, I can communicate with anybody with the way I am irrespective age. I want to make use of that power in the future."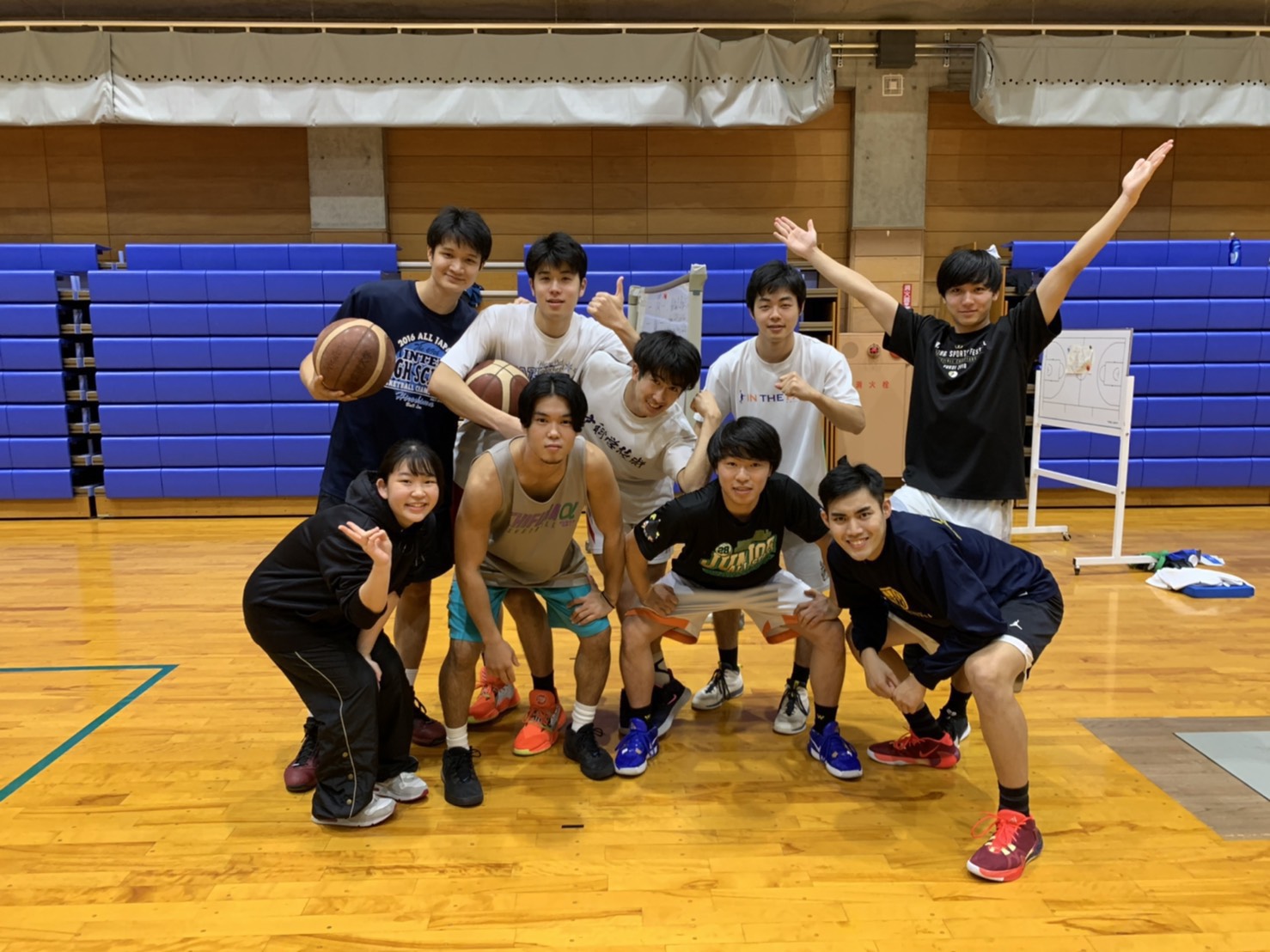 The Place Where I Can Be Myself the Most
In the last, we asked him that what does basketball club mean to you.
"Basketball club is the place where I can be myself the most. The time that I spend in basketball club is most part of college life. Spending a lot of time, I feel gradually being able to be myself. I like the time spending with teammate, and we can't lose even one person. As no snowflakes fall in the same spot, each teammate has each own colors. When everybody can show their own colors, I feel that I like to being here. So, for me, basketball club is the place where I can show my color and feel comfortable."
We will focus on him who have been trying to aim not only individual goal, but also team goal!!!
Interviewed by Fumika Saijyo (sports and science 3rd)
If you want to watch the game of Ritsumeikan basketball club, you can check the date of games from below URL!
⇓⇓⇓
Thank you for reading!!
Translated by Nakata Ryo (4th International Relations)
Toshiya Iwami (4th Policy science)
Saho Hashimoto (4th Literature)
Chihiro Saegusa (4th Literature)