Pursuing the ideal number 10
From Ritsumeikan university to the professional world
Today's Beyond is Yuta Ami, a 4th grade student of the C club All.1.
The other day, his participation in the 2022 season Volk Barrett Kitakyushu was announced, and he will be able to participate in professional games as a specially designated player this season.
He rose in an indomitable spirit, contributed to the first All Japan Championship appearance in All.1 history, and grabbed a professional offer.
What made you start futsal?
What is the Futsal club for Yuta Ami?
We asked him about his competitive life and his vision for the future.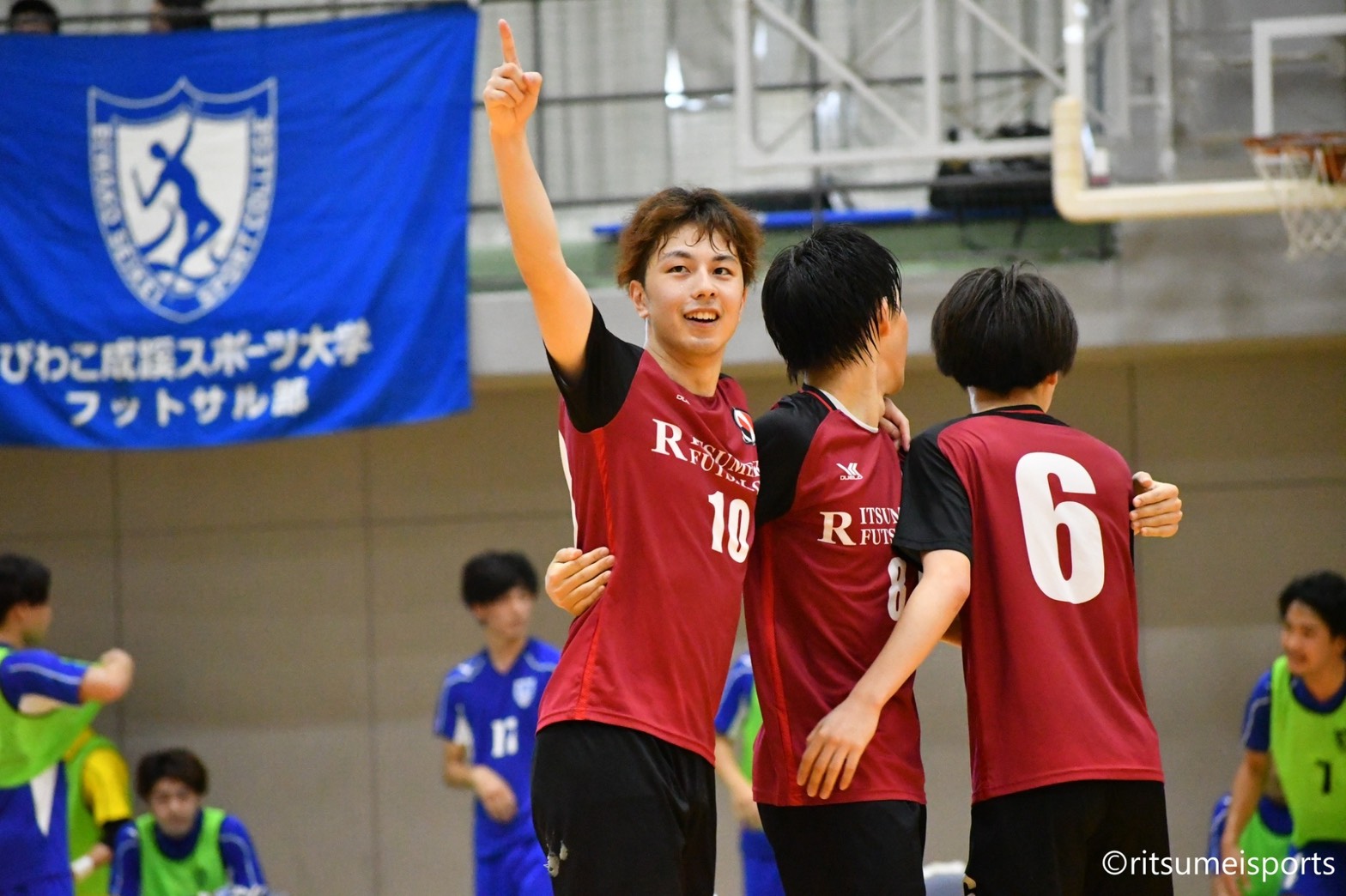 Photo by RITSUMEI SPORTS PRESS AGENCY (https://twitter.com/ritsumeisports)
I like soccer
His father who has liked soccer gave the environment he touched the ball since he was born. Therefore, he started kicking the ball when he was a very small child, and joined the soccer team to become a professional player when he was six years old.
He continued playing soccer in Junior Sports Clubs which is a strong team after he entered an elementary school. Mr. Ami said "At that time, I was not good at playing soccer, so I had cried while playing. But I had no intention quitting soccer."
After that, he continued playing soccer and became a captain when he was in a junior high school. "I could develop because my coach was very good person. By the coach's words and action, I knew that I was expected. Therefore, I tried hard to become a captain. I thought I had to play best, and practiced hard. Then, I was selected as a member of the prefectural trading center."
Though he was invited by high school which has a powerful team, he responded his parents' feeling that they want him to try hard also studying. He entered preparatory school, but he couldn't be active as he imagined. And, he thought there is no choice but to go to famous university for little-known myself to be a professional player. Then, he studied for more one year after graduating from high school, and entered Ritsumeikan University.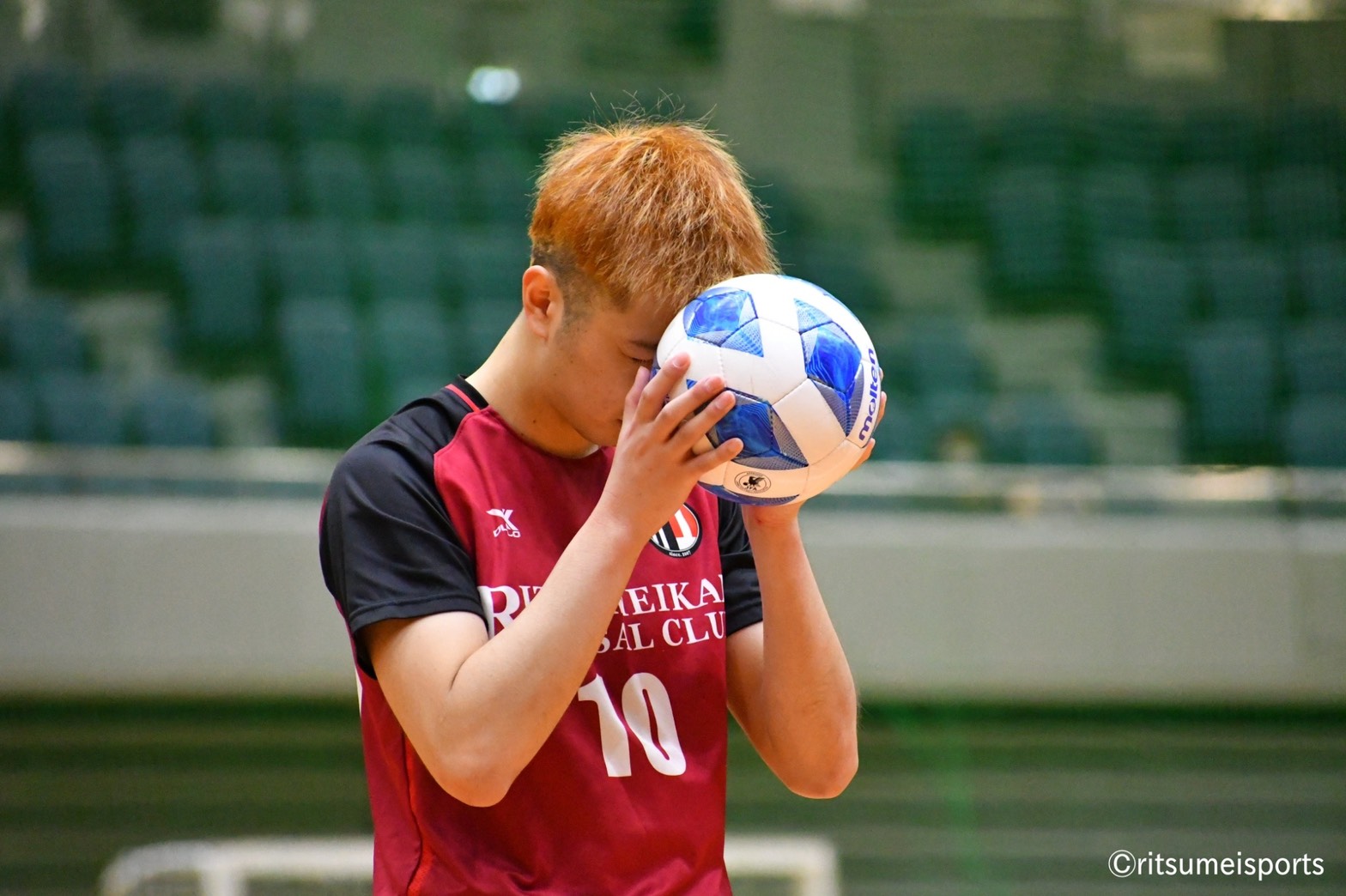 Photo by RITSUMEI SPORTS PRESS AGENCY (https://twitter.com/ritsumeisports)
From futsal to J-Leaguer
After entering Ritsumeikan University, he challenged a selection from the soccer club, but he was a failure. At that time, he joined the futsal club and aim for J-League. He said that "Futsal and soccer are different, so I couldn't enjoy futsal so much. I was better at soccer, I would play soccer play better than other members, I played soccer without concentrating.
He was not in the top team when his senior retired and he became a senior student. When club is not play futsal freely due to the influence of the coronavirus, he said, "I have spent so much time on futsal, is it okay to end as it as?. I had a desire to hang out with my friends, but I couldn't get back the time. I thought it would be a plus for me to play futsal." He could change his mind.
He got a chance to participate in the practice of the top team.
"I thought that this day was an important game because I participated in the practice of the top. I thought that if I get a result in the top team, I would keep in the top team as it is. I practiced with the feeling of an official game. And then I will play an active part in the top team."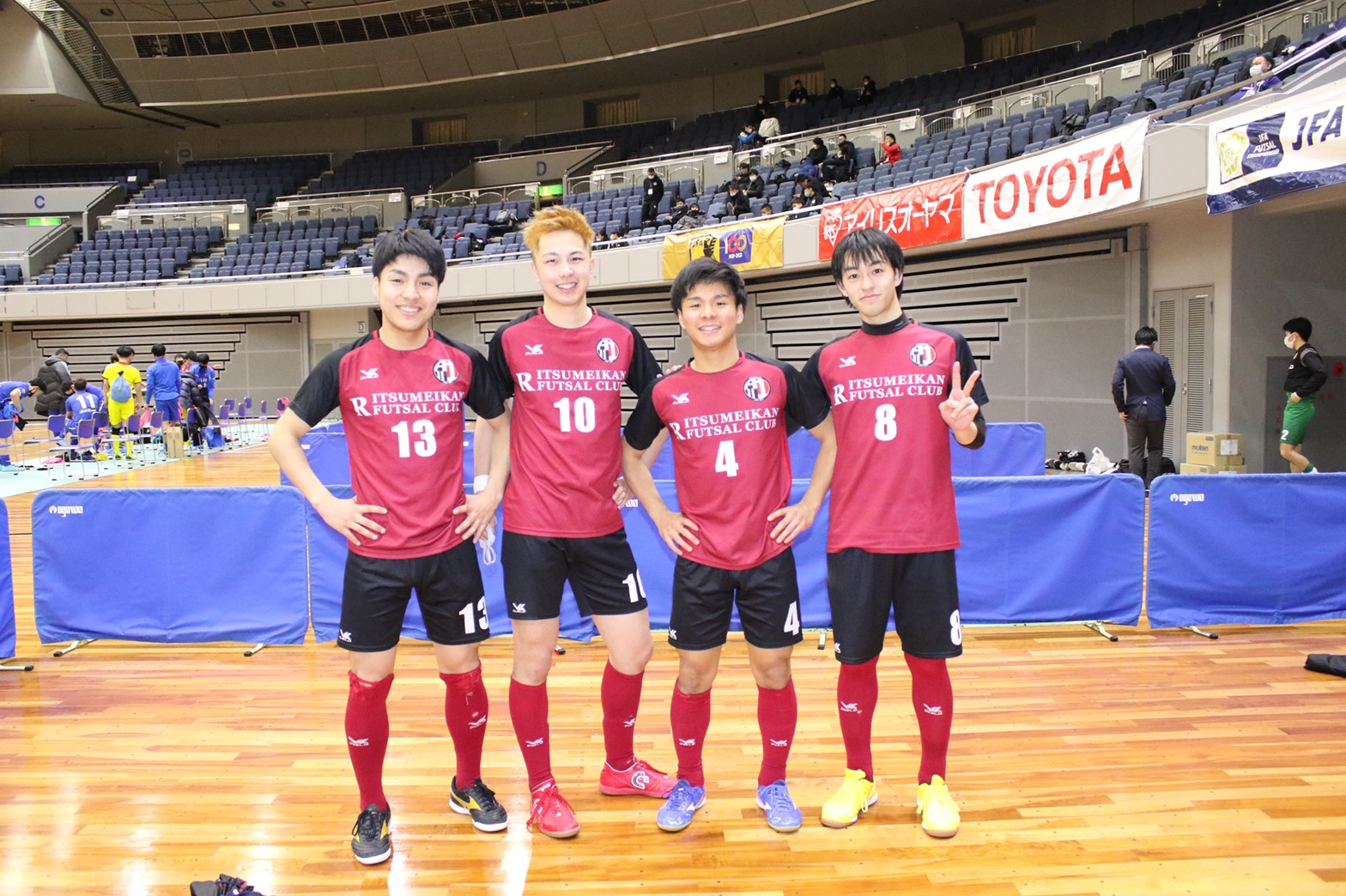 The Ace of the Team is Me
Mr.Ami who was promoted to the top team, in the inter-college, he reviewed
"I could be promoted to the top team and no.10, but I thought I am the lowest level in the team. I have always played futsal being conscious of thinking I am the ace of the team. There were a lot of good players in the national competition, but I could focus on scoring because our team also has great players. Teammates said to me that good job, but I had felt uncertain in the situation that I couldn't be active because I had thought I was the ace of the team."
After inter-college, the team practiced focusing on team play and Mr. Ami became able to score more.
"In the Kansai competition I became the top scorer, and I could score as the center of the team, so I had the confidence getting closer to the ideal no.10."
He contributed to first futsal national tournament appearance in the team history.
In the national competition, he was active, and he got offer from F-league team.
He reviewed "In the national competition, I could play as me. But I couldn't score a lot. I felt this is not ideal no.10."
And he also reviewed "originally, I wanted to be J-leaguer. So, I had thought I try to be J-leaguer playing futsal. But I thought after I got offer, playing in the F-league is also one of the ways to be the J-leaguer." He decided to be F-leaguer.
He told us "Everyone say that it is difficult to enter the game in F-league from first year, but I want to enter the game and indicate my own value"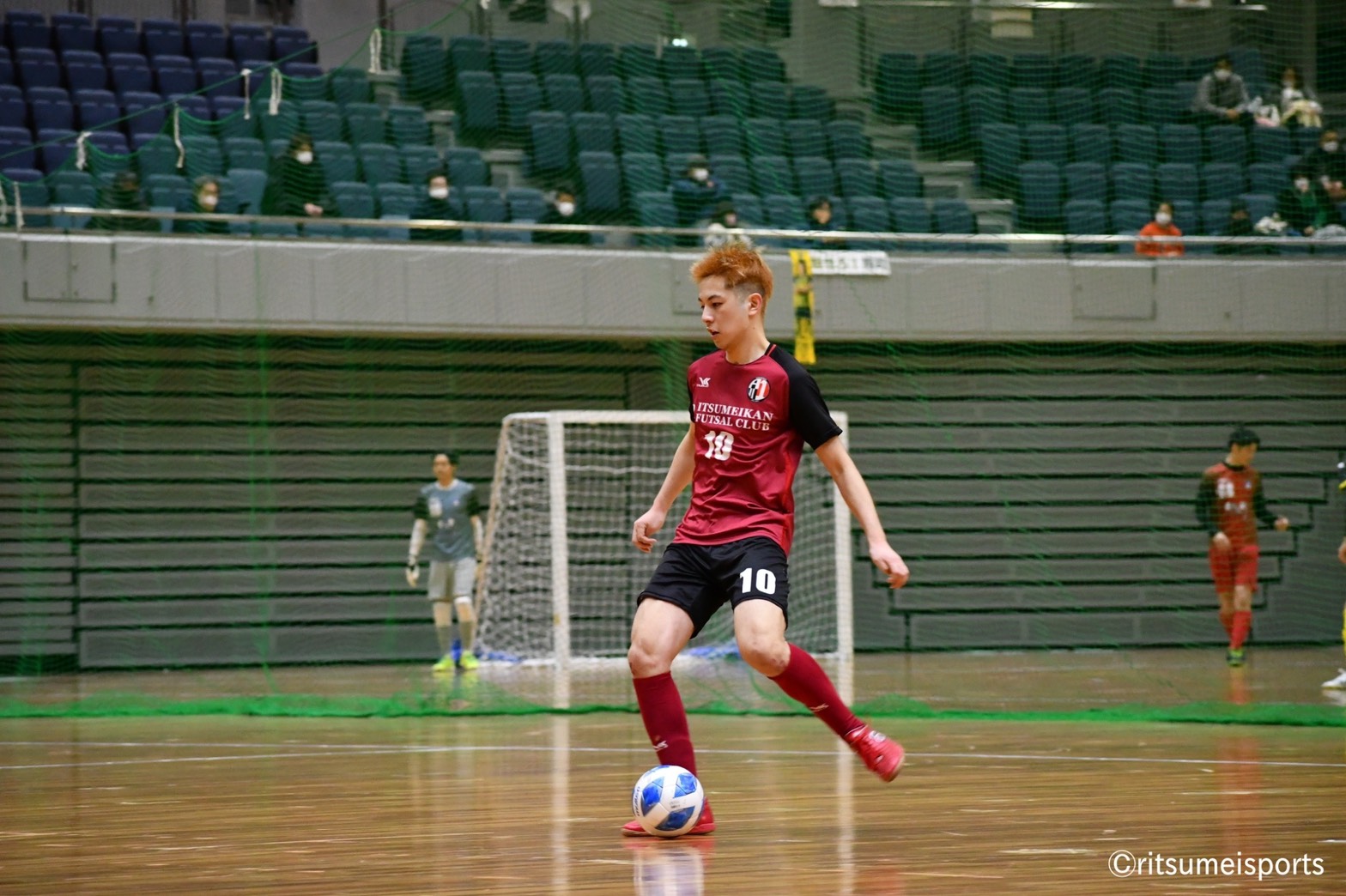 Photo by RITSUMEI SPORTS PRESS AGENCY (https://twitter.com/ritsumeisports)
The place that made become Keisuke Honda
For him, the Futsal club is "the place that made me become Keisuke Honda."
He said, "I've always wanted to be like Keisuke Honda, and I've been modeled after Honda. All.1 has the foundation of a strong futsal team, so I can interact with him in a stance like Honda. I can do it. It was a place where I could show myself as Honda because it was an organization aiming to be the best in Japan. "
The ultimate goal is to change from F-Leaguer to J-Leaguer, or to pay attention to Mr. Ami's future activities to wear the Barcelona uniform that he admires in the futsal world.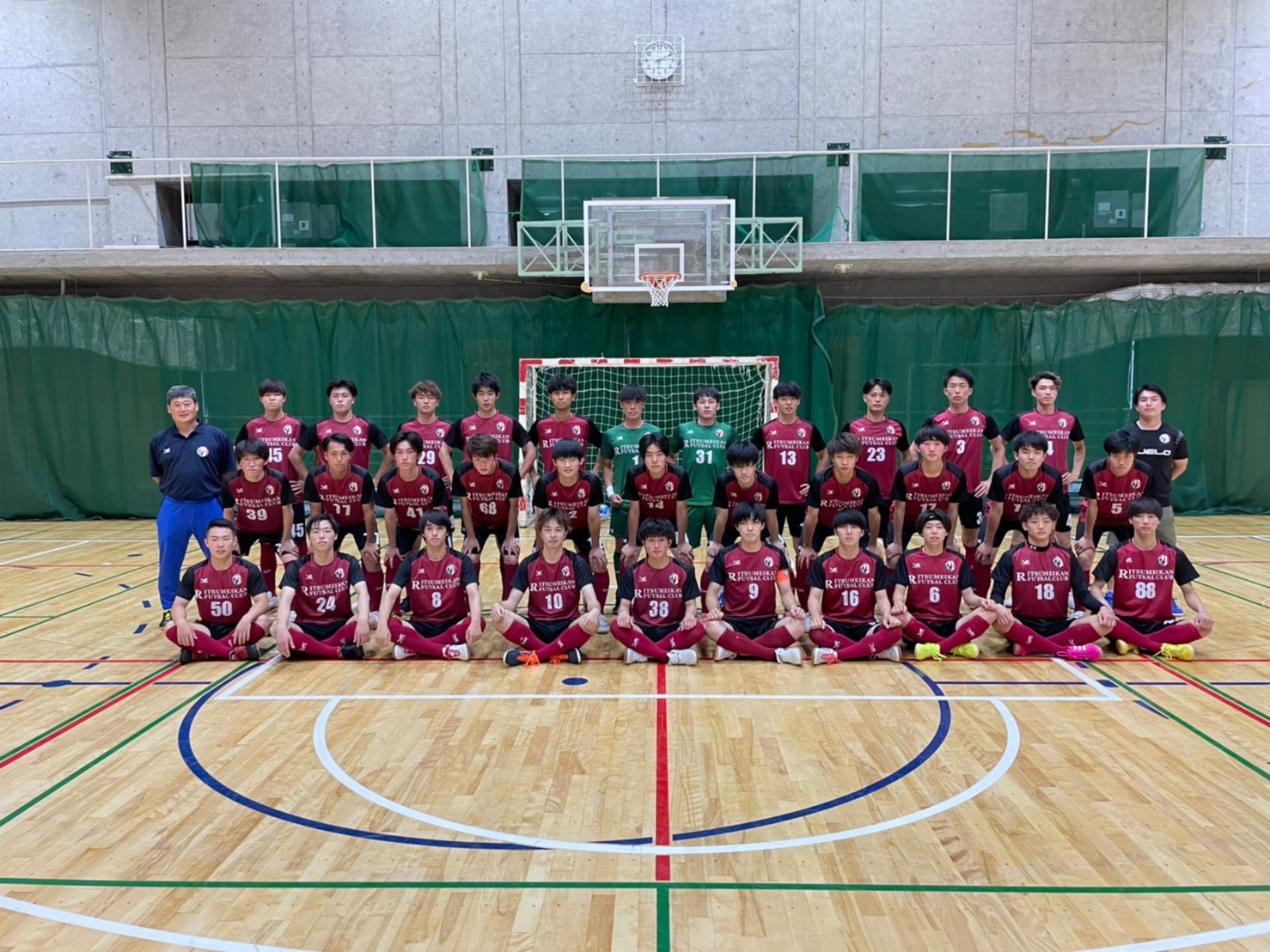 Interviewed by Naoya Ninomiya (Sports and science 4th)
If you want to watch the game of Ritsumeikan Futsal club All.1,
you can check the date of games from below URL!
↓↓↓
Thank you for reading!!
Translated by Ryo Nakata (4th International Relations)
Saho Hashimoto (4th Literature)
Chihiro Saegusa (4th Literature)
Toshiya Iwami (4th Policy science)